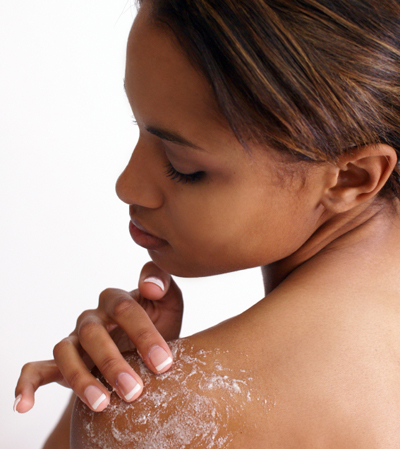 As much as we all strive for a flawless look, our beauty habits can be less than admirable. Some mistakes we know and own up to, but some you may be commiting unbeknownst to yourself. Here are the 7 common beauty mistakes many of us commit on a daily basis–and how to avoid them.
Exfoliating Too Much
Exfoliating should be done no more than twice a week, but some people tend to overdo it. Yes, the skin does feel great and super soft after exfoliating, but in this case, less is more. Exfoliating too much is harsh on the skin and can lead to breakouts as well as aggravate oil production. Instead use a gentle scrub that doesn't have harsh beads, and exfoliate no more than once or twice a week.
Cleaning Too Often & For Too Long
Nothing is better than the feeling of fresh, clean skin. Although it's nice to be clean, cleansing too often and spending a lot of time in the shower or bath isn't actually that great for your skin (or hair). Over cleansing can remove the natural oils and lipids that help to lock in moisture and protect your hair and skin. To avoid stripping hair and skin of those oils, use mild shampoos and body washes, and try to spend no more than 10 minutes in the shower or bath. Also remember that hot water is not so great for the hair and skin either; aim for warm water instead.
Wearing Makeup To Bed
This is a big no-no. Though sometimes washing our face at night seems like the hardest thing in the world, skipping out (we've all been there, done that) means your skin won't have the chance repair itself properly. Makeup also blocks pores, causing breakouts and dull-looking skin. Be sure to wash you face nightly (wipes, while great on the road, are sadly not as thorough as a good wash), using an all-in-one mild cleanser that removes makeup, cleans pores and tones.
Over Tanning
Tanning is just not good for your skin, period. It ages you and is known to cause skin cancer. A safer alternative is using self-tanners or spray tan instead of the harmful tanning beds. Self-tanners and spray tans can give you light, golden natural and healthy glow. It will give you that nice hint of color even throughout the winter.
Lack of Skin Protection
One of the biggest mistakes people make is not wearing sun protection. Be sure to wear an SPF every day – yes, that includes the winter months as well. Exposure to sun's harmful rays can cause dry skin, wrinkles, sagging, age spots and skin cancer. It's super important to protect your skin from the sun, so start getting into the routine of applying sunscreen or a moisturizer of at least SPF20 before you hit the door.
Using Conditioner All Over Your Hair
A lot of people apply conditioner as they do shampoo –  all over the hair – but the hair that is closet to the root is nice and healthy already. It's the ends are that need some love and attention because they are older and damaged. Applying conditioner to the roots will weigh down your hair and can make it look greasy. The next time you condition your hair, start at the ears and work the product all the way down to the ends. Doing it this way will give you volume, and the great thing is you will not have to wash your hair as often.
Neglecting the Neck
When you are taking care of your face, it is important to not leave out you neck. The neck is just as prone to changes as the face, including changes in pigment, elasticity, texture and dreaded wrinkles. You want your face to match your neck and if you focus only on your face, your neck isn't going to look good – and that can be just as telling. When applying sunscreen/moisturizer, make sure you are not stopping at the chin. Take the product all the way down to the neck and even apply some product to the chest area. You don't need a separate product for your neck; your regular day and night moisturizer will do just fine.
Please follow and like us: